All our teachers
offer Online singing lessons
All of the vocal coaches at Express Voice Studio offer online singing lessons as well as in person, meaning you no longer have to be in Montreal or Toronto to work with our Artists. Take singing lessons online every week, once a month, or multiple times a week: our no-contract style music lessons are designed to give you the freedom to work at your own pace.
We truly believe our singing teachers (each of them a professional singer in their field) provide the best online singing lessons. How can we make such a statement? Well, not only can you take a-la-carte singing lessons with any teacher, but founder Jordanne Erichsen has created an online singing course designed to maximize the speed at which you improve, empower you to be able to identify what your unique problems are, and prevent you from strengthening the wrong muscles- possibly making your singing more painful and causing vocal damage.
So, its up to you: Are you looking for 3 month online singing course designed specifically for you, or are you interested in taking online voice lessons a-la-carte?
Why online singing lessons?
Are you a recording artist looking to clean up your singing skills or deal with some vocal fatigue or pain?
Often a professional singer will not have the same needs as beginner singers and so the structure will differ from other online singing lessons. All the sessions in our online singing classes will be geared towards maintaining the uniqueness of your sound and artistry while correcting any issues which may cause vocal injury. Often these sessions will incorporate having you practice songs from your album to target difficult passages and evaluate them for vocal health.
While online singing courses are geared towards building a voice, a professional singer is often looking to refine and protect. Over time, our goal is to expand your vocal range, find the correct use of head voice and chest voice, and provide you with vocal training that enables you to take care of your own voice: These singing lessons are not intended to go on weekly forever.
Vocal coaching for advanced singers is about self-empowerment and awareness. Understand your voice, your vocal technique. and apply it to your own music. The best vocal training teaches you how to feel out your voice day to day and understand what you need to do to get your singing voice show ready. Then, your vocal coach becomes someone you check in with your experiment with: You don't need to learn how to sing, you need to learn how to read your voice and be performance ready at any time.
In our opinion, online singing lessons are not worth your money if they do not involve one-on-one lessons with a singing teacher. There is too much room for error with singing lessons online composed entirely of generic pre-recorded material. Many of us at Express Voice Studio have experienced first hand how working with the wrong teacher can take your singing voice backwards: you strengthen bad habits, your throat feels fatigued, you become frustrated and risk damaging your vocal cords… even needing vocal surgery on nodes in extreme cases.
However, online singing lessons with a real vocal coach listening to you and providing personalized feedback and programming is certainly beneficial.
With 10 years of teaching experience already under her belt, Jenn Connor is excited to be offering voice and piano lessons online through Express Voice Studios.
Originally from Burlington, Jenn demonstrated at a young age a willingness and ability to perform, singing Hilary Duff's "Wake Up" at the local town fair when she was 10 years old. That same year, Jenn was chosen to play the lead in her school's senior musical production of "Cinderella." This early onstage experience led to additional opportunities in high school and furthered her interest in pursuing a career in music.
Vocally, Jenn is classically trained, specializing in Bel Canto over the past 13 years. In addition to teaching vocals, Jenn also teaches beginner and advanced piano, both classical and pop/jazz.  Building upon her own Royal Conservatory credits, Jenn's previous work experience includes helping students prepare for RCM examinations, auditions, and performances.  
In pursuit of her own singing career, Jenn has worked with renowned producers including Los Angeles-based Tomas Costanza (Boys Like Girls) as well as award-winning producers Douglas Romanow (Justin Bieber) and Rob Wells (Ariana Grande).  Jenn's recent release,  "Like I Did," a fresh, innovative sound (produced by Wells) received airplay across Canada and critical acclaim from numerous online music blogs and magazines. 
Jenn's musical influences range from the pop stylings of Michael Jackson to the operatic roots of The Tenors, reflecting her depth of musical appreciation. Jenn credits The Tenors, Criss Angel, and Cody Simpson for their ongoing guidance and support in her musical career.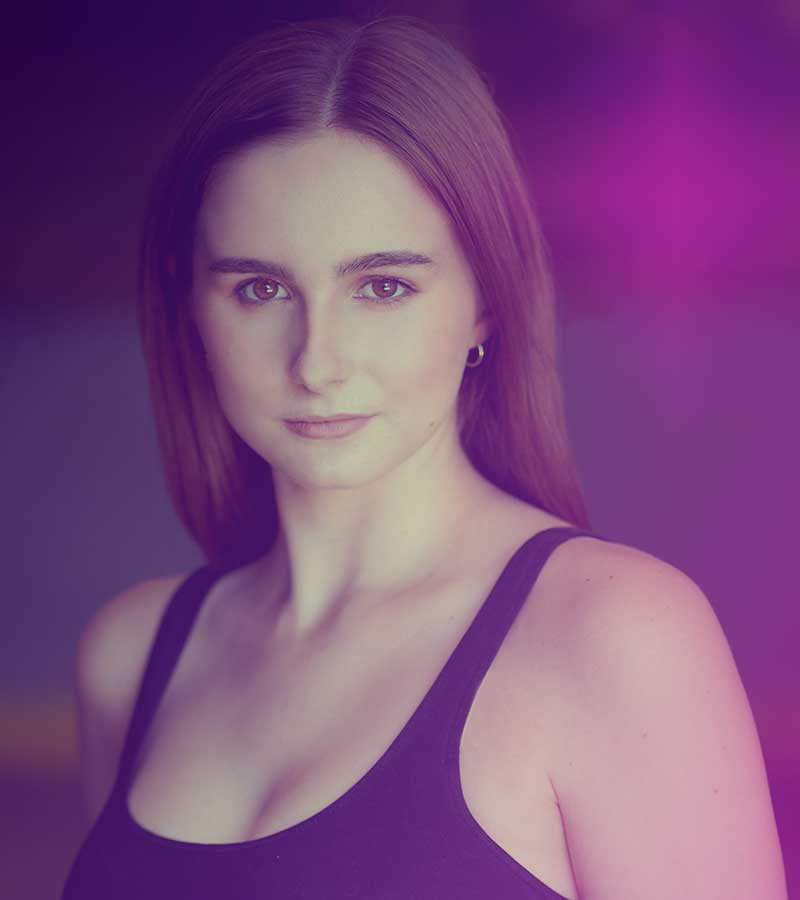 Monday 10am-6pm
Tuesday 10am-3pm
Thursday 10am-3pm
Friday 10am-3pm
Sunday 7pm-10pm

Madison has been a singer and performer for over a decade. Educated in Musical Theatre at Randolph College For The Performing Arts, along with independent training through leading performance and singing workshops in New York and Toronto. Some of her notable theatre credits include Diane in Million Dollar Quartet, Mary Poppins in Mary Poppins (the LOT); B in Bittergirl and featured ensemble in American Idiot (Stephenville Theatre Festival) Though Madison's specialty remains in Musical Theatre, she is also well versed in pop music. Her work spans from national commercials, to independent feature films, and performances in festivals across Canada. Madison hopes to help you connect with your voice, and grow your performance skills! 
Flexible Availability
Ages 8+
Teaches in English
(Speaks French as well)
Victoria Diamond is a multi-disciplinary artist who started performing at a young age in Halifax,
Nova Scotia. As a child, she studied ballet, jazz and tap dance, and she was cast in her first professional lead role at age 9. From there, she performed a variety of roles in TV, film, theater,
and musicals, as well as voiceover work in her home city.
After graduating from a French immersion high school and finishing university studies in
philosophy and history, she was accepted in a 3-year contemporary dance program in Montreal.
It was there that she came to the attention of a director who had an extensive background in
French theater and encouraged Victoria to pursue acting, casting her in her first French play.
Upon graduation from dance school, Victoria continued to pursue her acting studies in various
programs and workshops, including the Neighborhood Playhouse in NYC, Meisner method with
Jacqueline McClintock, physical theater with Debby Mulholland in Italy, as well as a various
other forms of acting and movement related training: clown, voice training, improvisation, yoga
teacher-training, and Alexander technique.
Victoria has developed an eclectic and successful career, working in both English and French
entertainment industries in television, theater, film and voice work. In 2019, she won a Gemini
award for her performance in the Quebec TV series, Nomades. Recent credits include:
Forever, plus a day (Crave) Blood & Treasure (CBS) in the upcoming Quebec feature film,
Lignes de Fuites (Catherine Chabot/Cinémaginaire).
Victoria has been teaching movement and coaching actors in various capacities since she
started working professionally at the age of 12. Through her experience in dance, theater,
somatic therapies and yoga, she has a broad depth of knowledge about how to prepare oneself
globally for the various demands of the actor. In tandem with her acting career, she is currently
the recurring on-set acting and accent coach for Moozoom, an interactive children's show that is
distributed all through North America.
Acting Audition Preparation:
Acting audition coaching will set you up for your best chance at booking a role. Every audition is an opportunity to stretch and refine our creativity and skills. Our main objective in working together would be to get a thorough understanding of the scene: character's intentions, given circumstances, and the genre of the production, in order to go in with confidence. Most importantly, we use the audition as a tool to experiment, have fun, and explore the craft of acting. Prepare for your audition for stage, film, television or voiceover.
Working with a selected scene from film, theater or television, we will work from the same premise of preparing an audition, yet with a more detailed and deep dive into text analysis, character work and learning how to work with oneself to deliver a truthful and compelling performance. Scene work coaching can be useful for actors both in advance of an audition or during the role preparation stage to build a deeper understanding of the character and realize your most alive character.
Kit Boulter (they/them) is a trans nonbinary genderperformer, poet, mentor, and community activator. Through their work in theatre and entertainment, they advocate for social justice and representation on stages, in media, and the corporate world. They have performed live; singing, dancing, and acting on stages and screens across Turtle Island. Some theatrical credits include: Drunk Hamlet (title role) Jesus Christ Superstar (Pontius Pilate) The Little Mermaid (Ursula) Treasure Island (Long John Silver) and Hedwig and the Angry Inch (Yitzhak), Rocky Horror Dinner Show (Frank N Furter).
In drag as their alter ego Qaptain, they host and perform, lipsync and live-sing. Their advocacy for nonbinary representation beyond "mainstream drag" has led them to create their own collective house BOAT Haus, and they were a Champion of the 2019 Absolut Empire's Ball Competition as a member of Rebel Gen.
Over the pandemic, they developed and coordinated the Sparkin' Art digital studio for rural and remote artists, with the goal to help decolonize access to arts training and facilitate community collaboration. They've helped design and produce countless theatrical experiences and workshop sessions for youth, families, amateurs, and professionals alike. 
The best teachers are open to learning from their students. Qaptain Kit holds space for gentle revelations and easy-confidence development in their student-informed sessions. Get prepared to take responsibility for your vocal health and artistic practice as they tap into a wealth of experience of telling stories and defining art.
Not sure which of Kit's services is best suited for you? Reach out and we will help you craft the ideal lesson with this superstar.
Range Extension for Voice
Voice Exploration for Trans/Nonbinary Singers
Stage Sensation: Lessons from Drag, Dance, and Singing Live:
Teaching In: English, French
Monday-Thursday: Before 9AM / 12-1 PM / After 5PM
Friday Before 9AM / 12-1 PM
Saturday Before 9AM / 12-1 PM
Sunday Before 9AM / 12-1 PM

Montreal-based singer-songwriter &/or melodic rapper, Drew, has been pursuing his career as an independent musician for over two years, & has since seen relatively quick growth and success within the music industry. Alongside three in-house producers, together these 4 combine forces as jointly-known NSL (Never Stop Laughing) Collective.
Having graduated with a Bachelor's Degree in Marketing & Business Studies, Drew's knowledge acquired in his educational background has benefited his pursuit as a musician. In addition, with work experience in Digital Marketing & Advertising, his understanding and expertise of branding, as well as consumer behaviour, allowed the collective to quickly build & grow a highly engaged community on various social platforms.
Drew is solely managed, writes his own lyrics, does his own vocal recording, mixing, mastering, as well as all other other business/marketing efforts required to be a successful independent artist. For this reason, he has acquired & mastered many skills within the overarching theme of being a musician. Drew is constantly learning & testing new strategies & techniques to improve his marketing efforts and ultimately continue growing as a musician. He believes his business-knowledge and self-acquired skill sets are key contributors to NSL's relatively quick success in this industry.
Music creation is undoubtedly an artistic and therapeutic practice. That being said, in order to ensure a successful career as an independent artist, the importance of the "business side of music" can simply not be ignored or disregarded. More specifically, the aspects of marketing and branding are crucial contributors towards your success as a musician. These components can "make or break" your career in the music industry.
This "side" of the industry can be intimidating and "foreign" to some artists.
With some assistance and coaching in these departments, artists can see a complete transformation, and drastic improvements in regards to their music's performance (over time, of course).
Having first-hand experience in music marketing and an educational background in business studies, my skill sets may help independent artists properly position themselves within this comptetitive industry.
Key Concepts/Components in this "course":
Improving Social Media Presence (IG, TikTok, Spotify)

: Growing a following, increasing engagement, understanding algorithms, leveraging "stories", building a core fanbase, growing your network, the importance of collaboration, taking advantage of trends/fads, standing out in your niche, etc.

Branding Your Music

: YOU are the product. Strategies and techniques to start building the foundation of your brand/persona. Music is -almost- secondary!

Digesting Criticism By Being In The Public Eye

: Differentiating constructive criticism vs. Hate Comments, & relevant coping methods

Long Term vs. Short Term success

in the music industry

Strategic releases & the importance of timing
Song Exploration and Creative Frameworks
As creators, we must (at times) remind ourselves the reasons why we started all of this in the first place. This course offers tips and tricks to re-ignite creative thoughts, as well as offer/brainstorm tips and tricks to level-up your songwriting abilities, as well as technical production skills. This course more specifically offers assistance in regards to overcoming writer's block, avoiding creative burnout, as well as finding a proper balance between your music career and personal life. It also highlights the importance of lyricism and song-structure creation. Consider this an "all-around" course that offers assistance in regards to all that falls into the "creative" , "psychological", as well as "technical" sides of music creation.
Key Concepts/Components in this "course":
Maximising Productivity

,

Time Management

, & The "Bigger Picture"

Overcoming Writer's Block and reignite inspiration
Tips and tricks in regards to sound engineering

(more specifically, vocal mixing and song mastering)

Improving Your Vocal Delivery

Improving Songwriting Skills

The Importance of Lyrics and Song Themes

Seasonality in Music
Mondays: 9am to 3:30pm, then 8pm to 11pm
Tuesdays: between 9am and 11pm
Wednesdays: between 9am and 11pm
Thursdays: 9am to 5pm, then 8pm to 11pm
Fridays: 9am to 5pm
Saturdays: 9am to 5pm
Sundays: 1pm to 9pm

Nicole Jaskot is an emerging Pop/R&B artist from Toronto, Canada, with the goal of inspiring and helping others through her soulful music.  Nicole has been immersed in music from a very young age, began writing original music at age 14, and started professionally recording at age 16. Since the age of 18, she has released seven singles on all major streaming platforms. Nicole has also fallen in love with performing live and emotionally moving her audience with her beautiful, pristine voice.  She has performed at various venues and events in the GTA including Chez Lavelle, The Cavern Bar, Forks and Barrels Festival, Toronto Ribfest, and The York Region Police Appreciation Gala. Nicole has the ability to move people through her music, as she believes music is the most powerful form of art.
 Lessons are personalized and tailored to each student's needs and abilities. Lessons will include warm-ups and exercises for the first half, and focusing on a song of your choice for the second half. I will provide tips and pointers to help you improve in any area that needs improvement, focusing mostly on healthy and sustainable vocal technique, as well as musicality and style. I will also provide a folder of piano recordings and examples of the exercises we go through during our lessons. The goal is to feel more comfortable and confident using your beautiful singing voice in a healthy way with good technique, and to sing with more joy and less fear. Singing is important for so many reasons, and I would love to help bring your passion for singing and for music to life in a fun and healthy way.
Sometimes students are worried that the teacher will be unable to help them with their vocal technique as efficiently when working online. This is not the case with vocal coach Jordanne Erichsen. These online singing lessons are structured to include live, one on one coaching with Jordanne in combination with pre-recorded guided videos to practice to. Jordanne's teaching style is comprehensive, targeting your body, your vocal cords, and your understanding of what it means to sing with your voice. This program is appropriate for beginners and advanced singers due to its personalized nature.
The problem with most online singing lessons is they do not incorporate any check-ins or assessments with a vocal coach listening to you. Every singer has totally different tensions and issues to work through, which means a generic course cannot work for every participant and in some cases can even make you a worse singer.
This is why the 90 day course includes three 1 hour sessions live with Jordanne Erichsen over zoom. During each online singing lesson, Jordanne will re-evaluate and assess what exercises are needed for your voice; Based on this knowledge, she will create a series of Alexander Technique and vocal exercise videos for you to follow over the month. Your session will also include her walking you through what to focus on in each vocal exercise and what sensations you should be feeling to ensure you perform them correctly.
Your program will incorporate Alexander Technique video tutorials designed to re-coordinate your body's habitual way of making sound: Think exchanging jaw tension for a stronger connection with your back. This is what we use Alexander Technique for. It is unfortunately not enough to simply tell your body: "don't tighten my throat." Because your body has a habitual understanding of how to make sound, any demand for it not to do what it knows how to do results in more tension. The only way to undo tension and develop a new coordination at the same time is through Alexander Technique.
Video tutorials will also include personalized vocal exercises based on Jordanne Erichsen's studies with top New York City Vocal Coach Dr. Michael Warren.
These advanced techniques take you beyond making repetitive sound which builds on your tensions and actually connects you to your core sound. This is how we build power in your voice, unlock more of your vocal range, and maintain healthy vocal cords.
As your voice teacher, Jordanne creates a program using more advanced techniques than any other online singing lessons. By the end of the 3 months, her goal is more than for you to simply learn to sing. You will know your body, your voice, and your needs:
Improve singing voice health
Eradicate undo tension preventing you from unlocking your sound
Teach you reusable advanced singing techniques and vocal warm ups essential for your voice
Develop vocal power
Develop proper breath control
Build your musical knowledge
Expand your vocal range
Make you a confident singer
Improve overall musical abilities
To take singing lessons online, all you have to do is pick your teacher! Have a look at all of the teachers in the studio and see who catches your eye. Each vocal coach can provide vocal exercises targeting chest voice and head voice, music theory, breath control training, work on vocal tone, learn to read music, ear training, or just learn how to sing a specific song with its unique challenges! We cover every aspect required to help you become a better singer.
When. you know which vocal coach you want private lessons with, contact us via phone or email.
Not sure which teacher is best for you? Contact us and we will help guide you to the best singing teacher for your needs.
Alex Nicol
Jordanne was exceptional - I can't recommend her work enough to anyone seeking to improve their vocal technique and/or strength. She takes a full-body approach to singing, based on her training in Alexander Technique, which in my case meant connecting my posture to tension across my whole body. With Jordanne's guidance I was able to go from singing with tension and strain to singing with fluidity and support, all within a very short period of time. The newfound confidence I have in my voice is life-changing!
Tara
Robert is the best voice teacher I've ever had. In addition to having an amazing voice and range (helpful when I need to hear the notes back) he's incredibly supportive and fun to work with. I've improved my voice drastically and he really helped me through learning to belt and riff! Thank you Robert!!
Rebecca
I absolutely LOVE Tylor. I started singing last May and I was super nervous about it. Singing is extremely personal and vulnerable, and for me it's been so hard to feel comfortable enough to go to lessons because of how insecure I am about my voice. Once I summoned the courage to finally take lessons, I have to say that Tylor really went above and beyond to ensure I felt comfortable and safe.
Laurena Mayifuila Mayowele
Jordanne is great teacher! For the first time I contact her, I am very pleased. She took the time to truly understand what I needed. And, the first time I met her she made me feel so comfortable that I felt at ease to express myself. She made me do some exercise to see what my blocage was. Then gave me a routine, which is exactly what I needed. It have been only 3 courses but I can experience the change and improvement. And not only in singing and piano. I wasn't aware of all the tension I use to have in my body. Now that I am conscious of that, I am able to relax my body and feel a deep connection. Also, now I am enjoying the journey more. I will definitely recommend Express voice studio. I have been in singing class for 3 years and piano class for 16 months going through the same blocage over and over. And I can say that the approach is more global and it works!
Samantha Timmons
I did my first lesson with Jordie last week. She is very patient and has a lot of knowledge on vocal training. She made me see things from a different light in just one session! Her knowledge is impeccable. I'm looking forward to working on my voice with her! I already feel improvement in just a week. Truly recommend her.
Julian Basurto
Throughly enjoyed my lessons with Express and Ian! Would definitely recommend. Thank you guys!