Singing lessons in Liberty Village
Do you live in Liberty Village? Are you looking for Toronto vocal lessons near you? Maybe some private singing lessons for a friend or family member who might live in the area? Good news! Express Voice Studio has some options for you. We offer singing instruction with both online lessons and in person performance coaching.
Online singing lessons are available for all skill levels, from complete beginners to intermediate singers/experienced singers. No matter where you are with your vocal training, we have great options for you to advance your singing technique. Every Express Voice Studio location in Toronto features highly skilled professional vocal coaches ready to foster a love for singing and help develop your voice. Express Voice Studio singing lessons in Toronto help with all aspects of vocals, from proper warm-ups and basic vocal training to best practices for optimizing your singing and strengthening your voice.
Singing teachers available in
Praised for her "powerful singing voice" and known for "providing resounding depth" on her "spine tingling" renditions, Alyssa has been seen on stages across Canada for over a decade. Most notably, you might have seen her at Drayton Entertainment's "Home for the Holidays" this past Christmas, or you might have seen her as Mina in "Dracula: a Chamber Musical" performed at the Victoria Playhouse Petrolia. She has also been seen in Toronto as Esmeralda in Toronto's premiere production of "the Hunchback of Notre Dame" as well as Belle in "Beauty and the Beast" with the Lower Ossington Theatre. Coming up, you can catch her back in Petrolia as a featured performer in "Roaring 20's"
Alyssa Curto got her start in Musical Theatre as a young teenager. She spent many years performing across the GTA in competitions, regional theatre productions and studying with esteemed vocal coaches along the way. She now holds a Bachelor of Music from the University of Toronto and a Masters of Music from the University of Ottawa. Her vast knowledge of all genres of music has led her to perform many different roles both operatically and in music theatre/pop. She also travels with her classic rock cover band, Georgia Pines (georgiapines.band) with whom she plays keys and sings lead female vocals.
As a vocal coach, Alyssa has been offering singing lessons online and in person for the past 6 years. Her unique approach to vocalist training is designed to provide you longevity, versatility, and adaptability all while focusing on your optimal vocal health to empower you to sing your best and protect your vocal cords from injury, always! Together, she will help you hone your skills and learn better singing techniques to develop vocal power, chest voice, head voice, breath control, and increase vocal range. She will guide you to perfecting your singing skills at your own pace!
Alyssa is also able to provide valuable information on how to navigate the industry including how to get an agent, busting singing myths, best performance tips for auditions, and guidance on finding the right training/post-secondary programs that will set you up for success. Alyssa works with skill levels ranging from advanced singers to complete beginners. Are you ready for the next step in your singing journey? Alyssa is ready to help you get there. Let's go!
Liberty Village Vocal Coaching
Unleash your inner rock and pop star with personalized singing lessons from Alyssa, a seasoned vocal coach with years of experience on stage and in the recording studio. Whether you're a beginner looking to start your singing journey or an experienced performer looking to improve your skills, Alyssa has the experience and expertise to help you reach your goals. With her guidance, you'll work on essential skills like vocal technique, versatility, and stage presence, and develop good habits while eliminating bad ones. With Alyssa's passion for helping others achieve their dreams and her dedication to your success, you'll be well on your way to becoming the best singer you can be. Book your lesson with Alyssa today and start your journey towards rock and pop stardom!
Let's prepare you for auditions for post-secondary education, young artist programs, professional contracts, and community choirs, theaters, and competitions. Online singing lessons available as well as in person.
What you get:
an in depth warm up, exercises in breath control and proper voice production

song practice and singing technique application

performance tips

advice on best audition songs for singers

how to build your book

how to make a great audition cut that will show off your singing voice best

how to use your vocal training to impress an agent

practice on improving performance aspects like connecting to text, acting through song, and movement/ gesture
We will build out your repertoire! What songs are best suited for your voice and should be included in your package? Let's take time to pick songs, work on them artistically, and coach them vocally. 
What you get:
in depth vocal warm up

practice songs and apply advanced techniques with focus on proper breath control, achieving singing goals, increasing vocal range, and improving dynamics

professional review and instant feedback to take you from a good singer to a great singer!
Robert Popoli is a voice and piano instructor, composer, and performer based in Toronto, ON. He is a graduate of the Bachelor of Music Honours Performance (Voice) program at Western University. Selected theatrical credits include: John Brown in The Shop Girl (COSA Canada); Cogsworth in Beauty and the Beast, Rooster in Annie, J. Finch & Others in Puffs (Canadian Premiere), Harry "Jazzbo" Heywood in It's A Wonderful Life: A Live Radio Play, Mr. Marks/Jason Green/Stormtrooper in The Producers (The LOT); Carlos / Elle's Dad in Legally Blonde (Hart House Theatre); Sailor in Something for the Buoys (Sapling Productions); Performer and Music Director of Quarantine Story: A Digital Cabaret (Music Theatre Productions). Selected university credits: Paul San Marco in A Chorus Line, Jack in Into the Woods (Theatre Western); Leaf Coneybear in The 25th Annual Putnam County Spelling Bee, Jimmy Harper in Reefer Madness (King's Players); Laurie in Little Women, Robert in Company (Music Theatre on the Thames) Tom Springfield in Forever Dusty, Riff Raff in Rocky Horror Dinner Show (The Medley).
Robert enjoys teaching all age groups in a variety of musical styles with specializations in musical theatre, pop, opera, and rock. Being a composer, Robert is also able to help his students improve their compositions, learn what it takes to write in musical theatre style, accompany themselves while singing, and develop their sense of creativity for the purposes of writing songs and/or lyrics. In addition to his one-on-one lessons, Robert occasionally offers masterclasses in which students can perform for each other and receive peer feedback!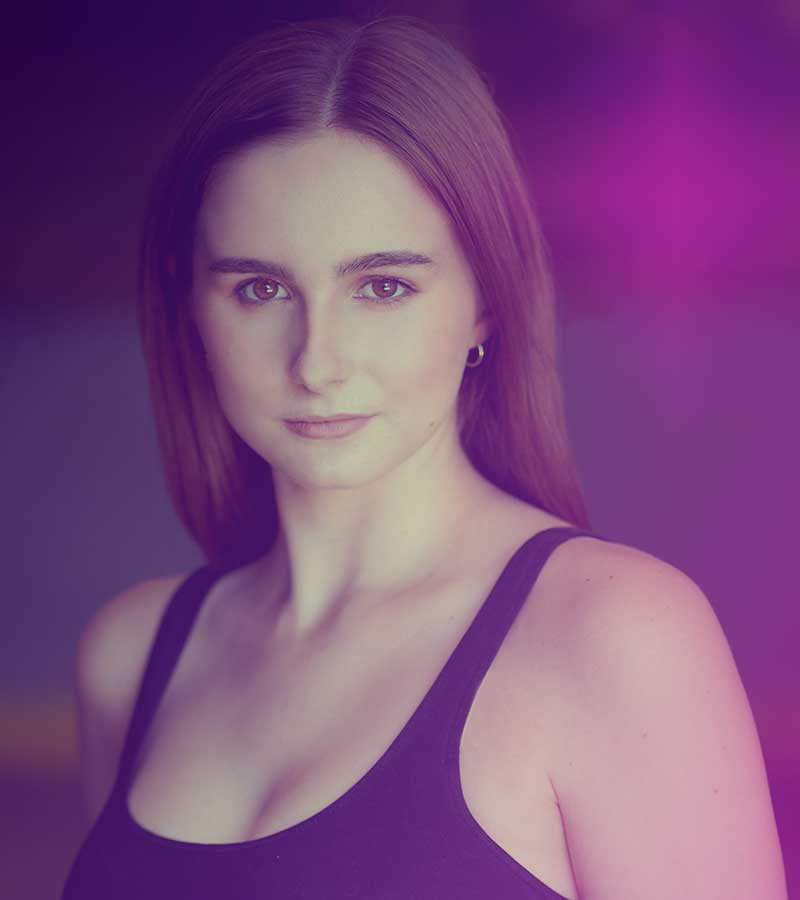 Madison Claringbold- Online only
Madison has been a singer and performer for over a decade. Educated in Musical Theatre at Randolph College For The Performing Arts, along with independent training through leading performance and singing workshops in New York and Toronto. Some of her notable theatre credits include Diane in Million Dollar Quartet, Mary Poppins in Mary Poppins (the LOT); B in Bittergirl and featured ensemble in American Idiot (Stephenville Theatre Festival) Though Madison's specialty remains in Musical Theatre, she is also well versed in pop music. Her work spans from national commercials, to independent feature films, and performances in festivals across Canada. Madison hopes to help you connect with your voice, and grow your performance skills! 
If you're looking to improve your musical theatre singing skills and unleash your inner belter, our singing lessons in Liberty Village, Toronto with Madison Claringbold are the perfect fit for you.
Led by our experienced singing teacher, your lessons are designed to help you develop healthy vocal technique, increase your range and power, and master the art of belting. During each lesson, you'll work one-on-one with Madison to identify your strengths and areas for improvement, and receive personalized feedback and guidance to help you reach your goals. Whether you're a beginner looking to get started in musical theatre or an experienced performer looking to fine-tune your skills, our singing lessons will help you reach your full potential. 
Book your singing lessons in Liberty Village or work with Madison online and start your journey towards becoming a confident, skilled performer.
Who Is The Best Singing Teacher FOr You?
Contact us and we will help guide you to the best singing teacher for your needs.
Alex Nicol
Jordanne was exceptional - I can't recommend her work enough to anyone seeking to improve their vocal technique and/or strength. She takes a full-body approach to singing, based on her training in Alexander Technique, which in my case meant connecting my posture to tension across my whole body. With Jordanne's guidance I was able to go from singing with tension and strain to singing with fluidity and support, all within a very short period of time. The newfound confidence I have in my voice is life-changing!
Tara
Robert is the best voice teacher I've ever had. In addition to having an amazing voice and range (helpful when I need to hear the notes back) he's incredibly supportive and fun to work with. I've improved my voice drastically and he really helped me through learning to belt and riff! Thank you Robert!!
Rebecca
I absolutely LOVE Tylor. I started singing last May and I was super nervous about it. Singing is extremely personal and vulnerable, and for me it's been so hard to feel comfortable enough to go to lessons because of how insecure I am about my voice. Once I summoned the courage to finally take lessons, I have to say that Tylor really went above and beyond to ensure I felt comfortable and safe.
Laurena Mayifuila Mayowele
Jordanne is great teacher! For the first time I contact her, I am very pleased. She took the time to truly understand what I needed. And, the first time I met her she made me feel so comfortable that I felt at ease to express myself. She made me do some exercise to see what my blocage was. Then gave me a routine, which is exactly what I needed. It have been only 3 courses but I can experience the change and improvement. And not only in singing and piano. I wasn't aware of all the tension I use to have in my body. Now that I am conscious of that, I am able to relax my body and feel a deep connection.
Samantha Timmons
I did my first lesson with Jordie last week. She is very patient and has a lot of knowledge on vocal training. She made me see things from a different light in just one session! Her knowledge is impeccable. I'm looking forward to working on my voice with her! I already feel improvement in just a week. Truly recommend her.
Julian Basurto
Throughly enjoyed my lessons with Express and Ian! Would definitely recommend. I looked for a long time for a singing teacher that I could have fun with, connect with, and grow my voice. Ian was definitely that teacher for me. The concerts were great too to be a part of. Thank you guys!