Singing classes in downtown Montreal
Do you live in downtown Montreal? Are you looking for singing lessons for yourself or singing classes for a friend or loved one? Express Voice Studio has two options for you! Some vocal coaches in our studio are willing to come to your home and teach if you live within the downtown Montreal area. Another option is to work with one of our teachers whose studio space is located in downtown Montreal.
Singing classes in downtown Montreal are available for all ages and skill levels. We consider the downtown Montreal area to include Old Port of Montreal.
Singing teachers available in
Praised for his "clarion tone" (Ludwig van Toronto) and "impressive vocal colour" (Opera Canada), Canadian-American baritone Geoffrey Schellenberg is recognized for the roles of Papageno (Die Zauberflöte), Belcore (L'elisr d'amore), Marcello and Schaunard (La bohème), and Figaro (Il barbiere di Siviglia). He has recently been seen in productions with Vancouver Opera, Pacific Opera Victoria, Portland Opera, Calgary Opera, and Vancouver Symphony Orchestra.
A graduate of Portland Opera Resident Artist Program, Calgary Opera Emerging Artist Program, and Music Academy of the West, he is currently continuing his training with the Atelier lyrique de l'Opéra de Montréal. He is scheduled to appear as Baron Douphol in Opéra de Montréal's upcoming production of La traviata.
Geoffrey has also become a frequent interpreter of oratorio, recently performing excerpts from Des Knaben Wunderhorn (Mahler) with l'Orchestre de l'Agora under the direction of Nicolas Ellis. Previously, he was seen as soloist in Vancouver Bach Choir's performances of A Sea Symphony (Vaughan Williams) and Requiem (Fauré) as well as in the Messiah (Handel) with the Prince George Symphony Orchestra. He has also sung baritone solos in Requiem (Duruflé) with St. Philips Choir and in Wenceslas (Chilcott) with Jubilate Vocal Ensemble. Geoffrey was a winner of the 2020, 2019 and 2015 Western Canada District in the Metropolitan Opera National Council Auditions, the platinum prize winner in the inaugural Vancouver International Music Competition, and a prize winner in the 2016 Canadian Opera Company Centre Stage Competition. He completed his master's degree at the University of British Columbia, where he performed many roles including Eugene Onegin in Eugene Onegin, Conte Almaviva in Le nozze di Figaro, and Demetrius in A Midsummer Night's Dream.
Working with singers ages 16+
Availability:
Mon/Tues : 10am to 10pm
Wednesday: 10am to 3pm
Thursday: 10am to 10pm
Fri / Sat: 10am to 7pm
Sunday: 10am to 10pm
Nicholas Cangiano is a Montreal based multi instrumentalist who's soulful and eclectic sound merged with his imaginative, imagery soaked lyrics quickly pulls you into his colourful world and creates a window into his life as a self made musician. Where anything goes, where the peculiar is encouraged, and where you're enticed to let down your walls and come as you are. Cangiano uses his savvy for several instruments; most notably guitar, bass, and keys to blend influences of classic funk and soul with modern pop and rock together into fresh, infectious productions that will have you coming back for more. His sound has been compared to the likes of Tom Misch, Chet Faker, Jungle, and Daniel Caesar to name a few.
Born and raised in North Bay, ON, Nicholas moved to Montreal, QC when he was 18 to immerse himself in a growing music scene and develop his sound. Having played music since he could walk he learned to record music when he was 15 and from there started on a path of experimentation, honing in on a unique self made sound from which several collections of music emerged over the years. When he made the move to Montreal he began performing in the streets as a one man act, live looping several instruments he had picked up over the years including guitar, bass, keys, and percussion, paying his bills with the tips he would make day to day. From playing in the metros and side streets his first year in the city, to playing for thousands a day in the squares and cobblestone streets of Old Montreal a year later, he continued developing his looping style as well as his self recording technique in his bedroom studio nestled above the streets of the Old Port. 
In 2019 Nicholas independently released his first EP entitled 'Off The Wall', quickly followed by another EP and a full length LP in 2020 entitled 'Lonely Paradise' and 'Makeshift Vacation'. These projects garnered him a small committed following through fans that he had caught in their tracks on the streets and won over with his unique productions. Cangiano's prolific songwriting over his time in Montreal culminated in another independently released LP entitled 'That Thing You Need' in 2021, and most recently the colourful 'New Occasion' EP released in October of 2022. With distribution and marketing support from the team at emerging Montreal label 'Favourite Library', 'New Occasion' has already been picked up by Canadian radio and press, as well as prominent playlists (notably Spotify's "Fresh Finds" and "Fresh Finds Indie"). With lots of new music in the works and a strong momentum building, the coming years are set to be big for this young emerging artist.
Songwriting and Musical Style Development
In this course we will explore how we can utilize your unique skills and assets to start writing music, or develop your songwriting skills depending on your experience level. We will be focusing on helping you find your unique style in any or all of the following skills: singing, lyric writing, song structuring, and instrumentation whether you're just looking to write music as a pastime, whether you want to start experimenting with releasing music, or whether you want to start or develop your career as a musician. This course is for individuals of all skill levels looking to develop their approach to songwriting and come into their own as a musician.
Music Production
In this class we will look at how to use Pro Tools or Pro Tools First software to record and layer vocals and instruments, make beats, edit and mix arrangements, experiment with production techniques and effects, and apply songwriting skills in a digital medium. I will use my 9 years of self taught music production experience to help you not only understand practically how to record music, but how through experimenting with layering, effects, and other production tricks and strategies, we can open up all kinds of possibilities in the music making process and bring your musicianship to another level. This course is open to beginner and intermediate skill levels from beginners who want to start working with recording software for the first time to individuals comfortable with the practical aspects of working with recording software but want to go deeper in opening up the potential of their arrangements and making their productions sound more professional. This course will touch on technical production principles and techniques but is more so focused on the creative aspect of music production; opening individuals to their potential and finding their voice and/or sound through production.
Teaching In: English & French
Availability:
Monday. 5-8pm
Tuesday 5-6pm
Wednesday 5-8pm
Thursday 5-8pm
Friday 5-8pm
Saturday 10-8pm
Sunday 1-8pm
Filipino-Canadian tenor Mishael Eusebio is a dynamic performer whose creativity and charisma bring unique interpretations into every project. His recent portrayal of Young Harvey in the Opera Theatre of Saint Louis's world premiere of Harvey Milk Reimagined was received with much acclaim as well as being featured in the summer 2022 edition of Opera News Magazine.
Other recent credits include appearing in the premiere of Tobias Picker's Awakenings (Opera Theatre St. Louis) covering Tamino (Opera Theatre of Saint Louis and L'Opéra de Montréal). Recent roles include, Passager Le Flambeau de la nuit (Opéra de Montréal/B.O.P. co-production) and the Navigator/Manoj in A Space of Sky (Houston Grand Opera workshop). He also created roles for several new short operas as part of the Juilliard Opera-Composer Collaborative Project, debuting at the National Sawdust in Brooklyn. This fall, he featured a recording project with Canadian composer Jeff Newberry.
With the support of the Art Song Foundation of Canada, Eusebio was named a Coburn Fellow at Songfest Los Angeles where he collaborated with John Harbison, Lydia Brown and Graham Johnson.
Featured in concert and oratorio, he has performed with the American vocal ensemble Musica Sacra, as well as with the Bach Ensemble at St. Thomas, where he was tenor-soloist-in-residence, performing many of Bach's cantatas with members of the Cincinnati Symphony Orchestra.
Eusebio was a semi-finalist for the 2021 Concours OSM, a finalist at the 2020 American National Opera Association Competition, a recipient of the 2019 John C. Erskine Prize, and the Encouragement Award at the 2020 Metropolitan Opera District Auditions.
His artistic diversity has also allowed him to explore other forms of theatre past opera, working in experimental theatre with Expect Theatre in Toronto, Beyond the Machine at Juilliard as well as having created the role of Winnie in the critically acclaimed Summerland the Musical at the Toronto Theatre Fringe Festival.
Mishael is a graduate of the Juilliard School and the College-Conservatory of Music in Cincinnati. Currently, he is in his second season as a member of L'Opera de Montreal's 'Atelier Lyrique professional training program.
In this course we will be developing the voice using the fundamental concepts of body, breath, phonation and resonance within the context of classical vocal music. That is, the repertoire will begin by exploring the 24 Italian Songs and Arias and then to other Arias and Art Songs depending on the singer's voice type, skill, and interests. We will be listening to and analyzing prominent singers in the western classical tradition. An optional sight reading/solfège component is also available to improve musicianship.
Musical Theatre/Pop Voice:
In this course we will be developing the voice using the fundamental concepts of body, breath, phonation and resonance within the context of Music Theatre and Pop. That is, the repertoire will be an exploration of Music Theatre's different eras, from Jazz age to Current, and then to other MT/Pop songs depending on the singer's voice type, skill, and interests. We will be analyzing and listening to prominent Music Theatre and Pop singers. An optional sight reading/solfège component is also available to improve musicianship.
Mishael Will Travel To Your Home In (+20$/Lesson) :
Notre-Dame-de-Grâce, Downtown Montreal, Outremont, Petite Italie, Verdun, Westmount, Brossard, St. Lambert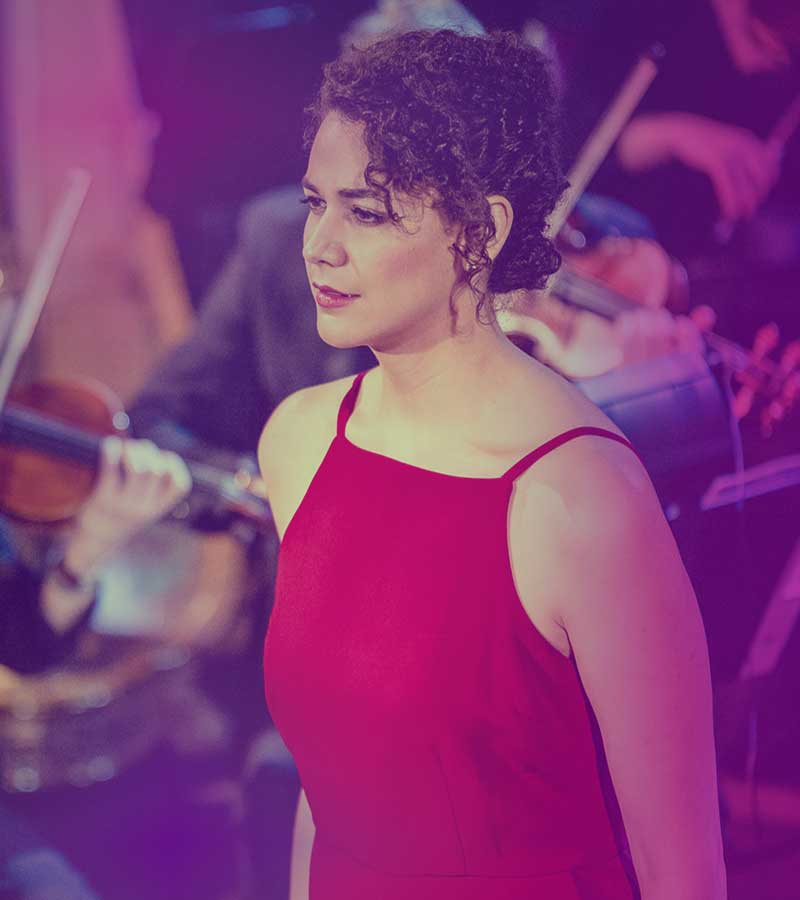 Studio is full / only waiting list
Rose Naggar-Tremblay puts her creativity and her great love of languages ​​at the service of various artistic creations, including the writing of booklets and shows for children and the composition of original songs.
From her early years on the professional scene, she has had the privilege of working with both renowned and emerging opera companies. On the one hand, she participates in productions of international caliber, heirs to a century of know-how, on the other, she works with uninhibited, imaginative and committed artists. It is inhabited by the desire to bridge the gap between expertise and innovation, seasoned and new audiences, infrastructure and creative freedom.
In addition to running a private singing studio with students aged 5 to 60, she teaches French and creative writing to children aged 5 to 12 (U arts Academy), songwriting with adolescents (Collège Ville-Marie), the creation of opera libretto for young adults living with mental health disorders (ET at the opera), Italian for lyrical singers and some retirees who love languages ​​(Scuola internazionale di Teatro Giovanni Grasso) and is participating in the development of an online course on the psychology of communication (Psycom). In 2021, she will be one of the singing teachers at the Halifax Summer Opera Festival and the Scuola internazionale di teatro Giovanni Grasso.
Not sure which teacher is best for you?
Alex Nicol
Jordanne was exceptional - I can't recommend her work enough to anyone seeking to improve their vocal technique and/or strength. She takes a full-body approach to singing, based on her training in Alexander Technique, which in my case meant connecting my posture to tension across my whole body. With Jordanne's guidance I was able to go from singing with tension and strain to singing with fluidity and support, all within a very short period of time. The newfound confidence I have in my voice is life-changing!
Tara
Robert is the best voice teacher I've ever had. In addition to having an amazing voice and range (helpful when I need to hear the notes back) he's incredibly supportive and fun to work with. I've improved my voice drastically and he really helped me through learning to belt and riff! Thank you Robert!!
Rebecca
I absolutely LOVE Tylor. I started singing last May and I was super nervous about it. Singing is extremely personal and vulnerable, and for me it's been so hard to feel comfortable enough to go to lessons because of how insecure I am about my voice. Once I summoned the courage to finally take lessons, I have to say that Tylor really went above and beyond to ensure I felt comfortable and safe.
Laurena Mayifuila Mayowele
Jordanne is great teacher! For the first time I contact her, I am very pleased. She took the time to truly understand what I needed. And, the first time I met her she made me feel so comfortable that I felt at ease to express myself. She made me do some exercise to see what my blocage was. Then gave me a routine, which is exactly what I needed. It have been only 3 courses but I can experience the change and improvement. And not only in singing and piano. I wasn't aware of all the tension I use to have in my body. Now that I am conscious of that, I am able to relax my body and feel a deep connection. Also, now I am enjoying the journey more. I will definitely recommend Express voice studio. I have been in singing class for 3 years and piano class for 16 months going through the same blocage over and over. And I can say that the approach is more global and it works!
Samantha Timmons
I did my first lesson with Jordie last week. She is very patient and has a lot of knowledge on vocal training. She made me see things from a different light in just one session! Her knowledge is impeccable. I'm looking forward to working on my voice with her! I already feel improvement in just a week. Truly recommend her.
Julian Basurto
Throughly enjoyed my lessons with Express and Ian! Would definitely recommend. Thank you guys!